Overview
Underpinning the premium hosting services provided by Net Logistics are our state of the art network infrastructure, carefully selected data centre providers and our redundant network uplinks.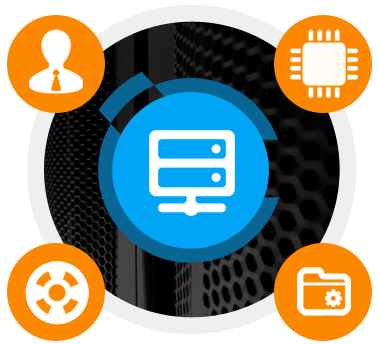 These factors, in combination with our high-end server hardware and software are the infrastructure that allow Net Logistics to provide exceptional performance, stability and uptime. All this is achieved at an affordable price and backed by support that is the envy of the hosting industry.
Advanced technology is not the entire equation when it comes to providing world-class web hosting. After all, even though high-end servers make for a great hosting experience, those servers are only as good as the team that supports them. Empowered hosting comes about only when sufficiently advanced technology is combined with sufficiently impressive support staff, administrative staff, and management. Of course, all of that has to be combined in the most optimal way possible. And, it has to work efficiently too — particularly given the time critical nature of ensuring reliable performance and high server uptimes.
Growth plays a role too — when server farms grow from tens to hundreds to thousands of servers, whole new complexities get added. If you guessed that we sometimes wish everything was, really truly "magic", you're absolutely right! Fortunately, though, sufficiently advanced technology behind the scenes — along with a healthy dose of planning, common sense, hard work, dedication, and some simpler technologies, too — can more than compensate for a lack of magic. In case you're still not entirely convinced, we decided to break it down, and give everyone a bit of an insider's view of Net Logistics.

People
Despite technological advancements, clearly the support of computer systems is ultimately a human responsibility. This is why at Net Logistics, we place huge importance on the quality of our support staff – ensuring that our front-line support staff are the best and the brightest in the IT industry from the start, and are rigorously trained in telephone-based support, e-mail support, and our products before they handle a single support request. Behind the scenes, we have dedicated and talented programming and infrastructure teams which are continually working to improve our products and implement the latest technologies.
Accreditations
Unlike many web hosting companies which merely resell domains from other providers, Net Logistics is an auDA, ICANN and Nominet accredited registrar. This means that whether you wish to have an Australian .au domain, British .uk domain or an international .com, .net, .org, .info, domain, Net Logistics can assist you in all steps of the domain registration process and at very competitive prices.
Data Centres
These two world-class data centres were carefully selected to meet our demanding requirements and each have the following features in common:
Sophisticated fire detection and suppression systems
Uninterruptible power backed by redundant feeds, UPS systems and generators with onsite high capacity fuel tanks to operate indefinitely off the power grid.
State-of-the-art cooling systems to help ensure hardware stability and longevity.
Network carrier neutral
Minimum N+1 redundancy on power supplies
A high level of physical security, including 24x7x365 CCTV surveillance and security personnel, biometric and/or card access devices and traditional locks.
Each of these criteria simultaneously lowers risks of data loss and downtime, which in turns allows us to ensure higher levels of service.
Network
Over the past few years, Net Logistics has invested a significant amount of resources into expanding and upgrading our network.
Equinix SY2 and Equinix SY3 each have a primary connection provided by Nextgen Networks and a backup link provided by Vocus. Net Logistics also peers with Equinix Exchange.
Part of this expansion involved Net Logistics deploying several private 10Gbps fibre links between our infrastructure in Equinix SY2 and Equinix SY3 data centres. This link has effectively doubled our network uplink redundancy. For example, if there was an issue with our network connectivity in Equinix SY3, we could route all traffic over our private link to use our core network in Equinix SY2, and vice versa.
Although uplink quality is very important, one area that many people often overlook is internal network quality. In our internal network, we employ multiple levels of redundancy and we only use enterprise-grade Juniper® and Cisco® switches, routers and firewalls. Where possible, these devices are configured to automatically fail over to a backup device in the rare event of a fault.
Net Logistics also employs a powerful Distributed Denial of Service (DDoS) protection system. If Net Logistics detects a DDoS targetting a system within our network, the traffic to this target IP is diverted to our DDoS protection system. The system discards the DDoS traffic and the "clean" traffic is allowed to continue to the destination server, which remains online despite the attack. This DDoS mitigation is typically enabled for 24 hours and if the attack is still ongoing, the process continues for another 24 hours and this process is repeated until the attack is over. Once the DDoS ends, the routing is automatically restored to normal. All of this is done completely transparently and without any action on the part of the customer.
Hardware
Net Logistics has recently unified all shared, VPS and dedicated products to utilise the IBM Flex x240 Blade Chassis. These systems are perfectly suited for use as hosting servers, and IBM has the best combination of industry acceptance, reliability, hardware support, and underlying cost. These servers are high density, allowing us to deploy up to 56 servers per cabinet and are available in wide range of configurations that make them suitable to be used with all of our hosting products.
All servers deployed for use with our shared and VPS products contain dual Intel Octa Core Xeon® E5-2690 processors and 256 GB DDR3 ECC RAM. Complementing these components are high-speed SANs with SSD and SAS hard drives. These servers provide a powerful and reliable foundation for our hosting products.
Our range of dedicated servers have also been significantly updated to provide much higher specifications with faster processors, more storage and up to 32 GB DDR3 ECC RAM. For circumstances where disk performance is critical, Solid State Drives (SSD) are now optionally available for all dedicated server products.